What educational options are right for me?
There is so much to consider when planning for life after high school. Sometimes it's difficult to focus. Where do you start?
Let's look at the following options so you can get a handle on your career, life, future and the opportunities available in Newfoundland and Labrador. Career Crusing has a section called Explore Education and Training check it out - www.careercruising.com. You will need a user name and password from your school to access the site. You can get this from your guidance counsellor, teacher or principal.
University in Newfoundland and Labrador
Some jobs require a university degree. A degree program typically takes longer to complete than other postsecondary options however, on average jobs that require a university degree have higher earnings than other types of post secondary education. Memorial University has two campuses in St. John's, including the Marine Institute and Grenfell Campus in Corner Brook.
Check out www.mun.ca (709 864-8000), www.mi.mun.ca (1-800-563-5799), www.swgc.mun.ca (709-637-6200)
If you're interested in pursuing entry level university studies closer to home the Compressive Arts and Science Tranfer (CAS) may be a great option. This can often help bridge the gap between leaving home and moving on to university. This can be a difficult decision for students so experiencing what university is all about while living at home can make it much easier.
College of the North Atlantic
College of the North Atlantic is Newfoundland and Labrador's public college. With 17 campus locations throughout Newfoundland and Labrador and one in the Middle East State of Qatar, nearly 100 full-time program offerings and more than 300 part-time courses for some 20,000 students annually it is one of the largest post-secondary educational and skills training centres in Atlantic Canada.
Apprenticeship
Are you interested in learning a trade on the job? Newfoundland and Labrador's education and apprenticeship system can help you get the training and experience you need to become a professional, skilled tradesperson. If you are looking for more information call 1-877-771-3737 or visit here.
College of the North Atlantic
This college provides most of the technical training for apprentices in the province.
Canadian Apprenticeship Forum
This site is a comprehensive inventory of information on apprenticeship training across Canada. The inventory provides current information about apprenticeship programs and topics.
Careers in Trades
This site, funded by the Government of Canada's Sector Council Program, provides information for people considering a career in the skilled trades.
Apprenticeship Incentive Grant
Go to this Service Canada website for information about the Apprenticeship Incentive Grant (AIG), a taxable cash grant available to registered apprentices once they have successfully completed their first or second year(level) of an apprenticeship program in one of the Red Seal trades.
Skills/Compétences Canada
Skills/Compétences Canada provides career and skill-related resources. Skills/Compétences Canada also hosts the annual Canadian Skills competition.
Private Training
Private schools and or training options tend to have lower student teacher ratios and class sizes but can be more expensive than public schooling options.
Provincial Post-Secondary Offerings Lists
For a comprehensive listing of post-secondary programs and accredited training institutions in Newfoundland and Labrador, go here.
Transfer guide
http://www.edu.gov.nf.ca/council/trans98.htm
Career Search
Bridging between High School and Postsecondary?
Comprehensive Arts and Science (CAS) Transition is designed for high school and Adult Basic Education (18 years and older) graduates who would like to improve their general employability skills or who are lacking either the academic course or the required grades to meet the entrance requirements for the college or university program they would like to enter.
Post Secondary Institutions in Canada
To view links to schools, colleges and universities in a particular province please click on the appropriate province.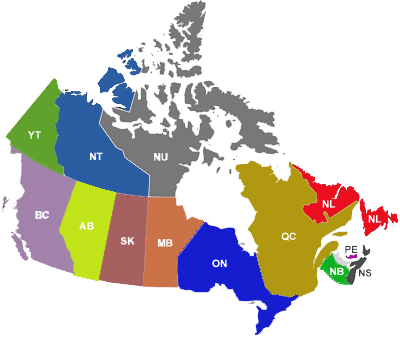 You may need to look at your options after leaving high school.
High School Equivalency
In some cases, students may leave high school before graduation. High school equivalency programs are available in cases such as this.
College and University
Apprenticeship
Entering the Workforce
Becoming an Entrepreneur