Waverley Soldiers' Memorial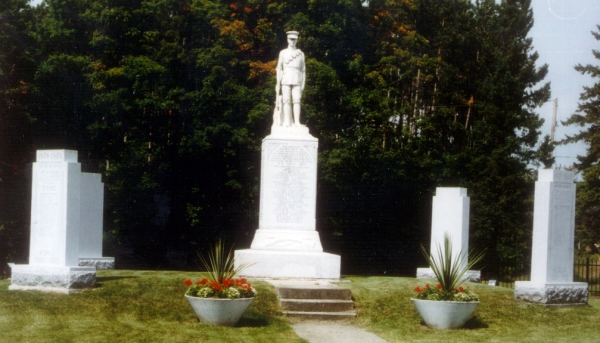 Waverley, Ontario


The Waverley Soldiers' Memorial was unveiled on October 5th, 1920, in honour of soldiers from Medonte, Tay, Flos and Tiny who fell in the Great War. The Memorial was donated by The Patriotic Ladies of Waverley in 1920 and designed and manufactured by R.J. Sanderson Marble Co., Peter-Street, Orillia.

This Memorial, as well as the date of October 5th, holds special significance for Mr. Ellwood McLaughlin of Orillia, Ontario, and his wife Vera. The couple met on October 5th, 1941, while attending a service at the Waverley Soldiers' Memorial. Five years later, on October 5th, 1946, the two were married. On October 5th, 1996, Mr. and Mrs. McLaughlin celebrated their 50th wedding anniversary. Each year, the couple return to the Waverley Soldiers' Memorial to pay their respects to those fallen.


| | |
| --- | --- |
| Veteran Ellwood McLaughlin | Ellwood and Vera McLaughlin |
Mr. McLaughlin also served in the 5th Division from 1941-1946. Along with the information he sent regarding the Memorial, Mr. McLaughlin also sent a poem written by Captain George Beer, 25th Battalion, of WWI. The poem reads:
The Old Beret


At the roll-call when I pass away,
Place on my head my old Beret.
Lay my medals upon my breast,
Ere borne away to my final rest.
Pin my armband around my sleeve,
And o'er my grave please do not grieve
Place the Button in my buttonhole,
And pray to God to rest my soul.
The boys that died on fields of War,
Have never seen a Beret before.
So as I march through Pearly Gates,
I'll be the envy of my mates.

So, slick me up in my old Beret,
Bury me deep when I pass away.
I'll tell the boys at the first Communion,
Of the time I had at the Corps Re-union.