NORTH BAY AREA WAR MEMORIAL WALL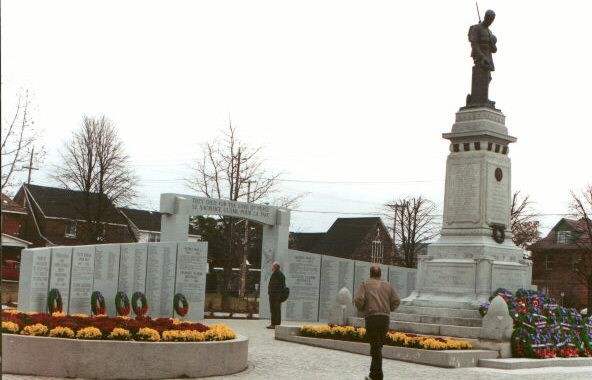 First Avenue West, North Bay, Ontario
It was unveiled on November 12, 2000 and constructed in memory of those 640 men and women of the North Bay area who served, fought and died in all the wars of the 20th century in which Canada participated. The wall is located on an elevated terrace directly behind the existing cenotaph, which dates from September 17, 1922.
July 1994 – Concept of the Memorial Wall proposed by Edmond V. Nicholson, CD, a veteran of World War 11 and of the Korean War, to the Royal Canadian Legion, Branch 23.
September 1996 – A committee was formed with 6 Legion members and grew to 15 members. It was called Project Flanders 2000 Wall Committee.
September 1997 – A business plan was created to raise money, employ architects, accountants, contractors, fundraisers, and landscapers.
June 1998 – For the next 2 years after countless meetings our plan showed results.
Funding was raised through the City of North Bay, Millennium Bureau of Canada, Canadian Heritage, Northern Ontario Heritage Fund Corporation, Ontario Trillium Foundation, RCAF Alliance 406 Squadron, 22 Wing CF Base North Bay, other military associations including The Algonquin Regiment Association, Korea Veterans Association Unit # 58 , 11 Royal Canadian Legion Branches and several Corporations from the area, and generous donations from the general public.
The November 12, 2000, Memorial Wall Dedication ceremony with over 2500 people in attendance.
Measurements- 10" thick bare granite panels varying in height from 4'-6'' to 7'6''and weighing 2-3 tons each, and arranged in a semi circular form some 70' in length. This Memorial Wall is crowned with a granite arch and an inscription-"THEY DIED FOR THE LOVE OF PEACE". Beyond the Wall is a commemorative stone garden where the names of hundreds of service men and women are engraved on individual granite stones.
They are located on sloping beds within a heavily landscaped area.
Architects were Critchley, Delean, Trussler, Evans and Bertrand of North Bay
Research- Chairman Edmond V. Nicholson CD----Photograph-Kevin Scully.
Contractors were GAP Construction Co Ltd. North Bay and Signature Memorials, Orillia Ontario.
Cost was almost $700,000
The first official Remembrance Day service will be held on November 11, 2001
Countless hours were volunteered by the committee to ensure the project to be successful.
Sidewalks, grass, flowers, trees and lighting installed in summer of 2001 to beautify the North Bay Memorial Park.
The Parks and Recreation Department of the City of North Bay perform the maintenance and upkeep.