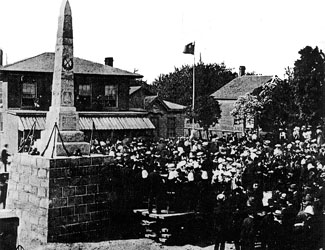 Unveiling ceremony, Victoria Day, 1902

Newtonville, Ontario

The granite obelisk was constructed in 1902 and dedicated to the memory of Captain P. K. Milligan. It was unveiled on May 24, Victoria Day, 1902. The ceremony was conducted by Colonel John Hughes and the monument was officially unveiled by Colonel Cotton, Q.M.G., Ottawa.

A plaque on one side of the base is dedicated to the Durham Regiment, forerunner of the Midland Regiment. There is also a plaque dedicated to four local boys who lost their lives in WWI.

In April 1943, a collision between a transport truck and a car damaged the monument. The original stone base was replaced with cement and was re-erected in Memorial Garden. In 1980 it was restored and is now maintained by Branch 178 of the Royal Canadian Legion and the town of Clarington.