Mount Uniacke, Nova Scotia

The Uniacke and District Memorial was erected November 6th, 1976 in memory of the Men of Uniacke and District who gave their lives for their country. The memorial was dedicated on November 11th 1976.

The existing war monument in Mount Uniacke originated when the Uniacke Ratepayers Association realized that the Community Hall with its memorial kitchen had deteriorated beyond economical repair.

The idea of erecting a monument was initiated by Maynard Parker, a World War One veteran whose son, Maynard, was killed during World War Two, and Jack MacDonnell, a World War Two veteran. A three member committee was formed to dispose of the building and to construct a monument to replace the memorial kitchen. This committee was comprised of the following: Donald William Nicoll, Maynard Parker, and James L. Paulley.

After removing the old community hall, the property PID #45138120, registered in the name of "Village of Mount Uniacke", was prepared and the monument was constructed by members of the Uniacke and District Volunteer Fire Department with other volunteers.

The monument was completed on November 6th, 1976. Mr. Maynard Parker watched the progress from the beginning. When it was completed on this very cold November day, he went home and returned with a quart of black rum. With tears in his eyes and a broken voice he said, "Thank you guys for bringing my boy and the others home, I'm sure they won't mind this quart to sit on their chest" as he placed the quart on the top of the monument.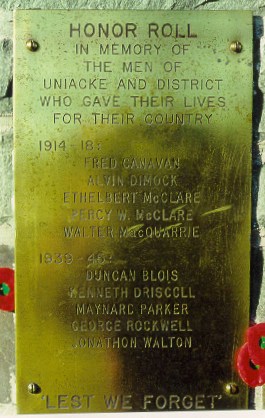 The inscription on the brass plaque reads as follows:
"In memory of the men of Uniacke and District who gave their lives for their country"
1914-18
Fred Canavan
Alvin Dimock
Ethelbert McClare
Percy W. McClare
Walter Mac Quarrie
1939-45
Duncan Blois
Kenneth Driscoll
Maynard Parker
George Rockwell
Jonathon Walton
The original plaque was replaced with one bearing an additional name. The former plaque is in the Memorabilia room at the Royal Canadian Legion, Branch 165, Mount Uniacke, Nova Scotia.
The history of the monument at Mount Uniacke was prepared by Uniacke Heritage Society, January 2000 with the assistance of Mr. Allen Benedict and Donald William Nicholl, residents of Mount Uniacke.
The following is a link to a list of the volunteers who built the monument. Also, there are pictures of the construction of the monument. Volunteer list and Construction Pictures