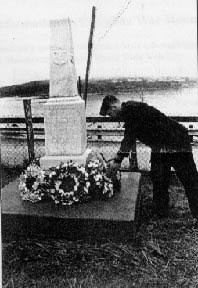 Arnold's Cove, Newfoundland

The War Memorial in Arnold's Cove was unveiled on August 7th, 1921, in memory of the soldiers who died during World War I. The inscription on the Monument reads: "Erected by the people of Arnold's Cove to perpetuate the memory of the young men of this place who lost their lives in the Great War 1914-1918. May they rest in peace."

Armistice Day has been celebrated at the Monument with wreath-laying every year from 1921, except for 1996 when rain forced the dedication of the wreaths to take place at a church.

The Monument was repaired in 1991 with private donations from Boutcher and Adams Families. No ongoing upkeep takes place.