National War Memorial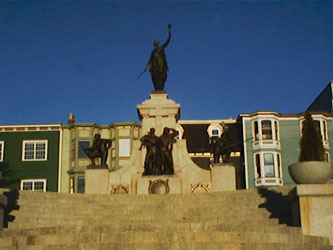 National War Memorial Located in St. John's, Newfoundland


The National War Memorial was unveiled and dedicated on July 1, 1924, at the east end of Water Street. The Great War Veterans' Association and the Newfoundland Patriotic Association launched the campaign to have it established. They developed a committee to establish the design and undertake the fund-raising to pay for the proposed memorial.


The design was for a semi-circular, graduated plateau rising from the entrance stairway on Water Street to the cenotaph on Duckworth Street. Sidney Pierce and Ernest Churchill, both local contractors and veterans, prepared the concrete and laid the foundation.


The five figures were designed by two English sculptors, F.V. Blundstone (top and sides) and Gilbert Bayes (front), and were cast in bronze by E.J. Parlanti from London, England. These figures represent Newfoundland's involvement in the war.


At the top of the central pedestal is a figure of a woman. It symbolizes Newfoundland's willingness to serve and the spirit of loyalty to the Empire. She is holding a flaming torch in her left hand as a symbol of freedom. In her right hand, she is holding a sword poised and ready to battle, if she must.
From the sides of the central pedestal, two wings of granite protrude.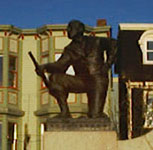 On the west wing, representing the Newfoundlanders who joined the Royal Naval Reserve, is a sailor holding a spyglass.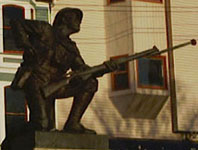 On the east wing, representing the men of the Royal Newfoundland Regiment, is a soldier in full battle gear, loading his rifle, searching the horizon for the enemy.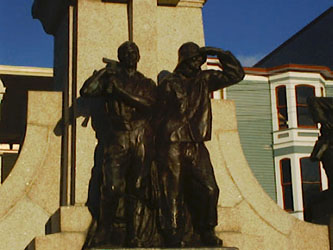 Out in front, on the lower pedestal, are fishermen in oil skins and rubber boots, and a lumberman with his axe slung over his shoulder, symbolizing the Newfoundlanders who served with the Merchant Marine and the Forestry Corps. Over their heads is a granite cross symbolizing the sacred nature of the war memorial. Below, is a bronze plaque stating that the memorial was erected by "a grateful people to honour its war dead". Similar plaques were added on both sides of the pedestal to commemorate the Newfoundlanders who died in World War II and in the Korean War.

Field Marshall, the Earl Haig, for Commander-in-Chief of British forces during the war, was invited to perform the honour of unveiling the memorial. He was joined by Governor William Allardyce, Prime Minister Walter S. Monroe, representatives of the churches, judiciary, political, military and diplomatic corps, Newfoundland veterans and thousands of ordinary citizens.

A picture of the St. John's National War Memorial taken in the 1940's.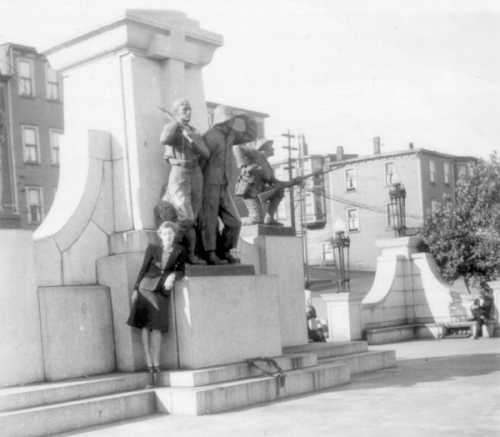 Click on the picture for a larger view.