Crandall, Manitoba

The Crandall cenotaph was erected shortly after the end of World War 1 by the Crandall Women's Patriotic Society. The exact date is unknown.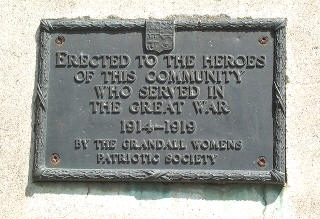 The inscription on the plaque reads:
ERECTED TO THE HEROS
OF THIS COMMUNITY
WHO SERVED IN
THE GREAT WAR
1914-1918
BY THE CRANDALL WOMENS
PATRIOTIC SOCIETY
For many years, Remembrance Day services were held at the Crandall Cenotaph. Now, however, as our numbers grow much smaller, Remembrance Day services are only held in Miniota. A small ceremony was held at the Crandall Cenotaph July 1, 2000 as a part of Crandall's 2000 Renunion. At that service a presentation was made to that community by Mr. Stuart Johnson who puts in many hours at the Brandon Airforce Museum in Brandon, Manitoba. This presentation consisted of a display board of pictures of local airmen lost during the war, along with a brief history of each, where they served and in what capacity, where they were killed and where they were buried.