Wall of Honour






Cranbrook, British Columbia

Constructed in 1990, in memory of people who served in various conflicts (Boer War, World War I and World War II, Korean Conflict, Vietnam War and Peace Keeping).

The standing Wall of Honor is 11 feet tall and 26 feet long. It is located in Rotary Park near the Cranbrook Cenotaph. The engraved marble slabs are 9 feet by 24 feet and can be inset into the concrete wall. The monument contains all the names of Cranbrook and area people who have served in the various conflicts which Canada has fought in. The names are sand blasted in marble to preserve them for future generations.

It was unveiled in November 11, 1990 to a crowd of approximately 500 people who came out to the Remembrance Day ceremonies. The memorial, honoring the people of Cranbrook who contributed to Canada's past war efforts, was uncovered following the city' s commemoration at the Cenotaph in Rotary Park.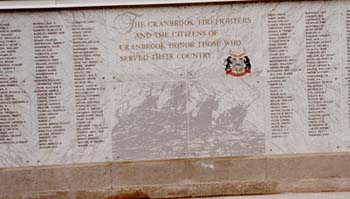 In blessing the wall, Father Yaroslav Dowbush, of the Ukrainian Catholic Church in Cranbrook, said the wall should act as reminder of the people who paid the price so Canadians could live in peace and freedom. "Lord, protect this country and protect men and women in the Persian Gulf that they may come back in safety," he said referring to the Iraqi invasion of Kuwait. "Protect this North American continent and especially British Columbia and Cranbrook." Representing the City of Cranbrook, acting Mayor Alan Gordon thanked all those who made the Wall of Honor a reality. "Our commitment to the people whose names are etched on this wall is that our community will house your Wall of Honor - with honor - and that we will write in stone lest we forget". There were also letters read from the Minister of Defence and from British Columbia Premier Vander Zalm.
The effort to build the Wall of Honor was a job led by the Cranbrook Firefighter Association in cooperation with the Cranbrook Royal Canadian Legion. Dave Stefanuk and Jack Walkley were singled out for their outstanding work on the project.
Veteran's Wall of Honor
built by
Cranbrook Fire Fighters


Dave Stefanuk - Chairman

| | |
| --- | --- |
| Jack Walkley - President | Wally Tymchyna - Chairman |
D. Haley
G. Haley
R. McBurney
E. Swanson
G. Ratcliffe
R. Olson

D. Nelligan
M. English
W. Matthews
O. Hansen
W. Erickson

L. Lode
G. Evans
R. Meeks
D. Gordon
K. Ferner
A. Gordon

C. Murrel
R. Sauve
D. Whieldon
L. Becker
D. King

Also attending the ceremonies were Secretary Treasurer, B.C. Firefighters Association, Randy Wosley; Vice President, International Association of Firefighters North America, Terry Richie; Deputy Zone Commander Ron LeNeveu; and President, B.C. Firefighters Association, Terry Erskine.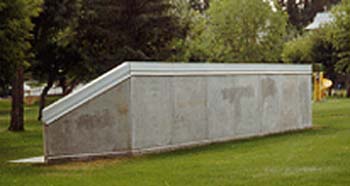 Wall of Honour Back View
By: Michael O'Reilly
Taken from The Daily Townsman
November 13, 1990