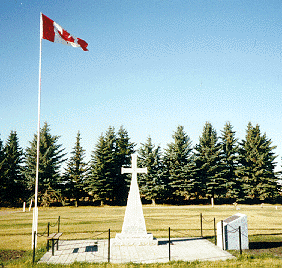 Olds, Alberta

The Cross of Sacrifice was erected in the summer of 1998 in the Olds Cemetery Field of Honour. It was constructed in memory of those who served their country in war and peace. The dedication ceremony, in conjunction with decoration day, was held on July 1, 1998. The Olds Branch No. 105 Royal Canadian Legion will be responsible for the upkeep and maintenance of the monument and site.

This Cross of Sacrifice was unveiled on July 1, 1998 by His Worship, Mr. Alan Taylor, Mayor of Olds, assisted by a representative of the Alberta Legislature, the Mountain View County and Camrade Roger Kilpatrick, President, Royal Canadian Legion Olds Branch No. 105.

This Memorial was erected by the Olds Branch No. 105, Royal Canadian Legion in cooperation with the Town of Olds and donations from the following organizations: Veterans Fields of Honour (1975), Ladies' Auxiliary Branch No. 105 Royal Canadian Legion, Kiwanis Club of Olds, Olds Elks Lodge No. 100, Baron Tweedsmuir Chapter I.O.D.E., Olds Lions Club and individual citizens.