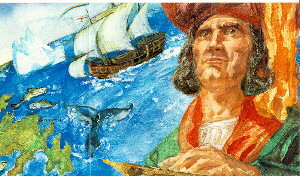 THE VOYAGE.
When John Cabot set sail 500 years ago, he was searching for a passage to the Far East, with spices and gold on his mind and a commission from his good friend King Henry V11. The Matthew cast off from Bristol on the second day of May in the year 1497, with a crew of 18 seamen, adventurers all. This was a time before trans-oceanic voyages and circumnavigation defined the boundaries of the world.
Cabot's voyage was a step into the unknown abroad an oak-toughened caravel. A brave , little ship of classic British design. After fifty-three days at sea, the Matthew made land. It was an unexpected far east that was found, the tip of an immense continent. The Far East of the Western World. Cabot's voyage marked the start of the globe-spanning British Empire and made possible, and then inevitable, the European settlement of North America.
On June 24, 1997, 500 years to the day that John Cabot landed in the New World, the Matthew will again make a historic landing in the New Founde Land. Arriving 500 years later at the original port of call , Bonivista, the Matthew will lay anchor in 16 other ports in a summer long-exploration of Newfoundland and Labrador's 16,000 kilometers of rugged and majestic coastline.
Back to previous page.