PRESS RELEASE FOR IMMEDIATE RELEASE
July 2, 1992
Crosbie Announces First steps in Northern Cod Recovery Plan
A two-year moratorium on the northern cod fishery was announced on today by John C. Crosbie, Minister of Fisheries and Oceans and Minister for the Atlantic Canada Opportunities Agency. The moratorium will take effect immediately and will continue until the spring of 1994.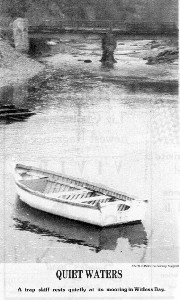 courtesy of the Evening Telegram.
Mr. Crosbie also announced that emergency assistance payments of $225 a week will be made for the next 10 weeks to fishermen and plant workers affected by the moratorium.
During the 10-week period, a comprehensive plan will be developed to meet the resource crisis, addressing income replacement, adjustment and industry restructuring. This will be done in co-operation with the Newfoundland government and in consultation with representatives of the fishing industry.
"The Government of Canada recognizes its moral obligation to treat fairly fishermen and plant workers who, through no fault of their own, face two years with no income from the northern cod fishery," Mr. Crosbie said.
Since 1990, a devastating decline in the stock of northern cod off the east coast of Newfoundland and Labrador, due primarily to ecological factors, has reduced the biomass by half and the spawning biomass by three-quarters.
A two-year moratorium offers the only chance for the spawning biomass to recover quickly to its long-term average, permitting resumption of the inshore fishery in the spring of 1994.
"In the meantime, it is essential to address hardship for individuals and communities, and take the decisions necessary to create a sustainable northern cod fishery built on a full-time professional work force, as well as harvesting and processing capacity that is in balance with the potential of the resource," said Crosbie.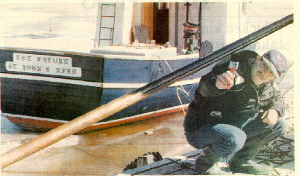 courtesy of the Evening Telegram.
The emergency assistance payments will be made to active inshore fishermen, laid-off plant workers and trawlermen who fish or process northern cod and who have exhausted unemployment insurance benefits or lack sufficient weeks of work to qualify for unemployment insurance benefits.
The federal government's comprehensive plan will include:
options for voluntary early retirement for older fishermen and plant workers;
voluntary retirement of fishing licences for those who choose to leave the fishery;
skills training outside the fishery, especially for younger participants;
professionalism and certification for those who choose to remain in the fishery;
measures to deal with the costs faced by vessel owners to maintain vessels made idle by the moratorium;
a test fishery to determine harvesting practices for a sustainable fishery; and
working with fish processors to seek new sources of fish for northern cod plants.
The Government of Canada is asking the Newfoundland government to take the lead role in assisting fish plant operators and vessel owners, matters which fall largely within provincial jurisdiction. The federal government will take the lead on income assistance for affected fishermen and plant workers, voluntary retirement programs and training. As well, the Newfoundland Government has been asked to ensure that facilities and instructors will be available for training programs funded by the federal government.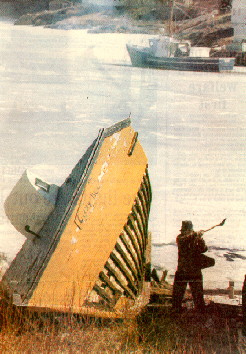 "The period of the moratorium offers an opportunity to consider what is needed to achieve a self-sustaining northern cod fishery, including a means to stabilize fishery incomes in the event of catch failure," said Mr. Crosbie.
The Minister added that these are some of the areas to be examined by the Task Force on Incomes and Adjustment, chaired by Richard Cashin, head of the Fishermen, Food and Allied Workers Union.
The Task Force will provide an interim report in late 1992 and a final report in the spring of 1993.

PRESS RELEASE
Northern Cod Moratorium
The two year moratorium on the northern cod fishery is essential to the recovery of the resource.
The Canadian Atlantic Fisheries Scientific Advisory Committee (CAFSAC) has found that the northern cod biomass has declined drastically in the past 12-18 months and is currently at or near the lowest levels ever observed.
CAFSAC estimates that the 1992 biomass three years old and older is between 530,000 and 700,000 tonnes. The critical estimate of cod seven years old and older, an indicator of spawning potential, is between 50,000 and 110,000 tonnes, among the lowest ever observed and about 10 percent of the long-term average.
The CAFSAC conclusions on northern cod confirm those reached at a special June 1-3 meeting of the Northwest Atlantic Fisheries Organization (NAFO) Scientific Council, and are based on the same data. NAFO is an international body responsible for managing fish stocks in the Northwest Atlantic outside Canada's 200-mile limit.
The normal reference point for setting catch levels in Canada is called F0.1. For cod this means an annual catch of about 20 percent of the stocks which can be fished during the year. CAFSAC and the NAFO Scientific Council say the F0.1 level for northern cod in 1992 would be 50,000 tonnes, but recommends that catches be kept to the lowest level possible. Already in 1992, 15,000 tonnes have been taken by offshore vessels, approximately 10,000 tonnes have been set aside for by-catches, and another 10,000 have been taken by foreign vessels outside the 200-mile limit, leaving only 15,000 of the 50,000 tonnes for harvest. An inshore catch of 15,000 tonnes would provide little income for fishermen.
Fish spawn at approximately seven years old and older. Because of the sudden decline in northern cod since 1990, cod now aged five and six (1986 and 1987 year classes) will soon make up almost the entire spawning stock. There are few older or younger cod. If fishing was allowed to continue, 80 percent of the catch would be made up of these five and six-year old fish that are now too young to spawn. These fish must be allowed to grow and mature if the spawning stock is to recover.
CAFSAC identifies no single factor as the main cause of the decline of northern cod.
However, the increase in mortality is consistent with extreme environmental conditions in 1991. These include cold winter temperatures off Labrador and northeastern Newfoundland, greater than normal ice coverage and low ocean temperatures. The influence of these conditions has not been quantified, but cod are known to have been killed by cold water in the past.
More than 500,000 tonnes of northern cod biomass have been lost in Canadian waters in the last two years. The decline is not unique to northern cod and could be part of a more general ecological crisis. Dramatic stock declines have been reported in Greenland, Iceland and the Baltic Sea. All major north Atlantic cod stocks outside Canadian waters but one -- Northeast Arctic cod -- in serious decline. Eastern Arctic cod turned around after catches were drastically reduced in 1990.
CAFSAC says it is not possible to predict whether the apparent increase in mortality would persist in 1992. For this reason, neither CAFSAC nor NAFO made any catch projections past 1992. CAFSAC does, however, recommend that every effort should be made to enhance the possibilities of stock rebuilding.
July 1992

back home

table of contents